What is happening with AMPS? An update
An update on the AMPS survey and other industry developments
Here is an update on our previous communications:
The newly created Marketing Research Foundation (MRF – formerly SAARF) has commissioned an update to the AMPS 2015B database, using the 2016 population figures. The 'AMPS 2016 update' is available right now on the Eighty20 Data Portal. Meanwhile, funding for the new research initiative has significantly exceeded minimum viability levels and the new AMPS (to be called 'MAPS') will be available on a subscription basis from mid-2018. The company that will be doing the fieldwork is being selected this month.
The goal of MAPS is to create consumer-centric research to provide insights and understanding of daily consumer behaviour, decision making and product and brand consumption. The research results will be primarily used to deepen consumer understanding, for target marketing, and as the basis for the planning of media space and time.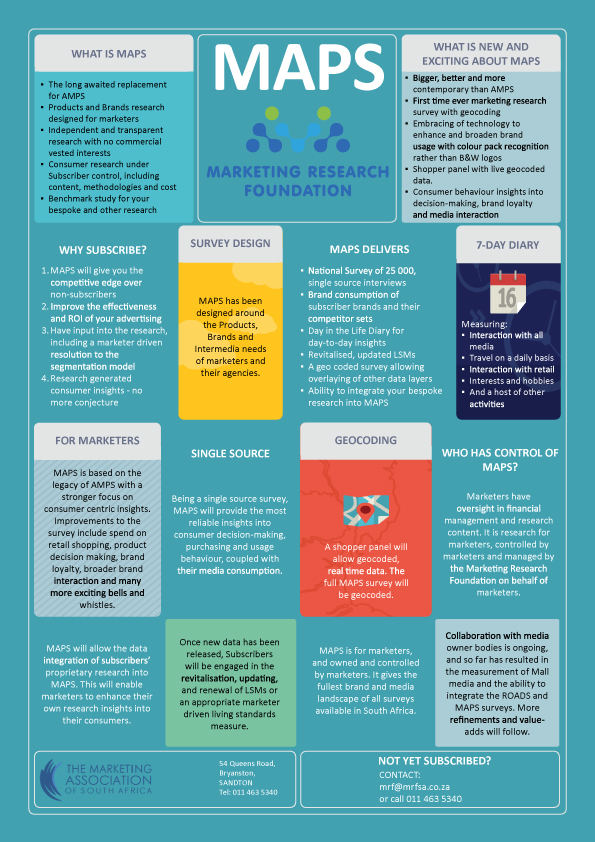 Greg Garden, CEO of The Marketing Association of South Africa and director of MRF, says, "MRF wishes to build on the world class foundation and legacy of AMPS, whilst embracing new thinking and new methods and changing what is no longer optimal to arrive at growing, living dynamic research that fulfils the MAPS goals."
Any brands that have not yet indicated their interest in the new MAPS survey are invited to do so by emailing mrf@mrfsa.co.za.
In other industry news, the second industry release of the Establishment Survey will be released soon. It is a good dataset for all those who want to get a better understanding of media consumption in South Africa. It will be available on the Data Portal soon after it is released.
Eighty20  will continue to follow these and other industry developments closely and communicate any changes with our clients and colleagues. If you have any questions, please contact andrew@eighty20.co.za
---
Interested to look back at the history of AMPS? See our presentation on 40 Years of AMPS 

here
---