At Eighty20 we are passionate about helping our clients create value by using data properly. With the Covid-19 pandemic, everything is changing rapidly and it is essential to understand not only the impact on people, but the best response to this crisis. Our deep understanding of consumer behaviour, extensive analytics capabilities and well developed actuarial modelling and scenario planning techniques are being used to help our clients respond in the best way – serving their customers and ensuring sustainability. Our pragmatic approach to insights, problem solving and execution helps provide clarity and focus in uncertain times – that's using the Eighty20 principle. #CovidClarity
Covid-19 puts brakes on air travel
The airline industry has been heavily impacted following the outbreak of COVID-19. The global scheduled flight capacity had dropped by 12.4%(YoY), as of 16 March 2020. The largest contraction was in Hong Kong, where capacity dropped by approximately 81%(YoY), followed by Italy with a drop of approximately 74%(YoY). In South Africa all domestic and international flights were shut down on 26 March 2020 for 21 days.
According to the Airports Company of South Africa (ACSA), in 2019 South African airports handled 6 million international departing passengers and just over 14.4 million domestic and regional departing passengers. Over the same period, ACSA recorded approximately 41 000 international landings, 10 000 regional landings, and 140 000 domestic landings. The total number of landing and departing travellers was just over 41 million in the 2018/19 financial year. OR Tambo is the largest and busiest airport in Africa with a total of over 21 million passengers in 2019. Cape Town International Airport is the next largest in South Africa with 11 million passengers in 2019. Despite these high numbers, in terms of individuals, there are fewer than 5m people in South Africa who have ever been on a plane.
These numbers will be impaired in 2020 by the COVID-19 pandemic, particularly during the 21 day national lockdown. In South Africa all domestic and international flights were shut down on 26 March 2020 for 21 days.
If we use the most recent global drop in flight capacity as an estimate of the expected drop for the rest of the year, as well as some other calculations, we get the following estimates:


This issue is a complex one, and using a range of approaches is advisable in such circumstances. We could use flight data we have available for countries which have already implemented a national lockdown as a rough estimate. For example, a 74% (YoY) drop in flight capacity was observed in Italy following their national lockdown on 9 March 2020. If we assume that this drop remains consistent for the next nine months, we can perform similar calculations to estimate the loss in flight capacity for South Africa. Using this approach we get the following results.


This estimation is far from perfect. From a regulatory perspective both lockdowns have some key differences where flights are concerned. Italian airports remained open, and many flights continued. Flights from China and Taiwan were suspended, as well as domestic travel. South Africa has employed a more stringent approach by prohibiting all flights in and out of South Africa including transits.
Both of these forecasting approaches have their flaws, as do all forecasting methods. As with much of our reality amidst the ongoing COVID-19 crisis, there is a great deal of uncertainty surrounding the topic of flight capacity for South Africa. At Eighty20 we aim to alleviate this uncertainty by using data.
If you are interested in learning more about Eighty20 and our insights, check out our other blog posts.
---
Sitting at Home
Using the Labour Force Survey for the last quarter of 2019, the information so far available as to who will be allowed to go to work during the shutdown, and some educated guesswork, we expect 13.1 million employed South Africans will be staying home during the three-week shutdown. Of those at home, 2.3 million (17.5%) should be able to work from home leaving 10.8 million South Africans employed South Africans out of the workforce for 3 weeks. (Labour Force Survey – 2019 Q4, https://bit.ly/2Unf8ep)
We expect 13.1 million employed South Africans will be staying home during the three week lockdown from 26 March to 16 April, 2020. Of those at home, 2.3 million (17.5%) will be able to work from home, leaving 10.8 million employed South Africans out of the workforce for 3 weeks.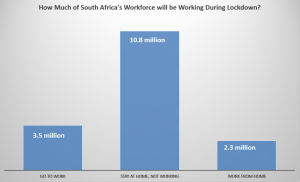 To get these numbers we used Eighty20's Data Portal to access the Labour Force Survey conducted for the last quarter of 2019. In this blog post we are going to walk you through how we did it. 
The Eighty20 Data Portal is a tool which allows you to draw insights from South Africa's richest datasets from various fields and sources. You don't need to be an expert to use our data; we make it simple and accessible. We've done the heavy statistical and methodological work, so that you don't have to. 
Allow us to give you a step-by-step tour of our Data Portal to show you how to get today's Fact-a-Day.
Choose from our wide range of datasets
The Data Portal includes access to demographics, product and brand attitudes, financial habits, credit rating and online behaviour within the population, as well as so much more. Whatever business you're in, we have the data necessary to inform key decisions. For today's analysis we chose the Labour Force Survey.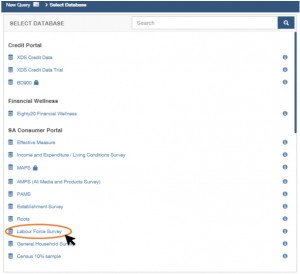 2. Choose the version best suited to your needs

We have data stretching as far back as 2007 for the Labour Force Survey, and some pretty impressive historical data for other surveys too. For this analysis we needed the most recent available data (2019 Quarter 4).

3. Choose the survey questions you're interested in by selecting fields. 

We needed to figure out how many people are working in each industry. This can be found in the "Main Work Activities" field under "Industry". The Data Portal interface allows you to access this data in just a few clicks.

4. Export the data to the desired format.

The Portal allows you to export the data onto your device for use in your preferred analysis program. You can choose to export to Excel Table, Excel Pivot, or CSV formats. We chosen to export to an Excel Table.

Note: You can also choose to analyse within the Portal by selecting the fields of interest and clicking "Click to get your data". 

5. You have your data!

If you open the downloaded file you'll find your data, which you can slice and dice as you please! Notice that you can also get the observations, as well as column, row, and index percentages by navigating through the tabs in the file.

6. Now for the analysis

As detailed as the Labour Force Survey is, it doesn't survey who will and won't be at work during the lockdown, so that we had to do manually. 

We added a new column to our Excel worksheet to categorise each sector as "Go to Work", "Stay at Home, Not Working", or "Work from Home". We used this article from Business Insider for an idea of which industries will and won't be going to work. 

There was some educated guesswork involved in deciding whether people from these industries could work from home or not. For example, we categorized 'Mining of iron ore' as a job one cannot do from home and 'Software consultancy and Supply' as a work from home occupation. This is not an exact science; of course the CEO of an iron mine will be very busy talking to shareholders during the lockdown, and if you install software on site for a software consultancy, you might not be able to do that remotely.  

7. Visualisation

We then used a pivot table and chart to visualise the number of employees for each category. 

And voilà! Our Fact-a-day analysis is complete.

Interested in a free trial? Get in touch with us here.

If you do some interesting analysis why not send it to us? If we like it we might post it on this blog.
---
Change in consumer behaviour
There were 1.8bn global online shoppers before the outbreak of COVID-19. After the outbreak, shopping in physical stores has seen a decrease (estimated to be approximately 30%) while online could see an increase of around 10%, according to a PYMNTS.COM survey done in the USA on 6 March 2020.
There were 1.8 billion global digital buyers in 2018. Estimates are that by 2021 there could be 2.14 billion digital shoppers around the world.
However with the outbreak of COVID-19, many consumers are rapidly migrating from traditional brick and mortar stores to online stores.
PYMNTS.COM, is a B2B platform for the payments industry and source of information about the initiatives that shape the future of commerce. On 6 March 2020, they conducted a survey to a panel of more than 2100 US consumers which found that online shopping had increased 10.5% via desktop/laptop and 7.7% via mobile phone since the COVID-19 crisis. Shopping in physical stores had decreased by 28.3%. Millennials saw the largest increase (13.6%) in switching to online shopping via desktop/laptop, while Gen Z were the largest increase in shopping via mobile phone (10.6%).
The pandemic has affected low-income consumers as they avoid shopping in physical stores, decreasing by 32.5% after the start of the crisis. Low-income consumers increased their online shopping by 8.9%, compared to an overall increase of 14.1% for high-income consumers shopping online.
In terms of gender, men spend 68% more money shopping online than women in the USA. Some 40% of men felt that the news was impacting what products they bought compared to 34% of women. Men were buying more groceries (22%), personal care items (14%), health and household products (13%) and beauty products (7%). Survey statistics provided by Forbes. Statistics provided by Statista
---
Contagion Hotspot
Over a quarter (4.2m people) of South Africa's workforce use a minibus taxi daily in order to get to their jobs. Additionally, more than 1 million students use a taxi everyday to get to and from school. The transportation sector employs roughly ~387,000 drivers, with more than half of those (221,000) belonging to the informal transport sector such as minibus taxi drivers.
Everyday in South Africa, more than a quarter of the approximately 15.5m workers take a taxi to work, and another 13m travel in a minibus taxi in any given week.
Confined and crowded environments people visit daily can act as hotspots for spreading disease. With 16 people packed into each vehicle, social distancing is not an option, and a huge cause for concern with an outbreak as contagious as COVID-19. The infection possibilities are further exacerbated by the fact that cash is passed by hand from each commuter.
In terms of drivers, there are several hundred thousand taxi drivers, most of whom will be financially affected in the government enforced 21-day lockdown. The taxi industry has tried to curb the spread of disease through measures such as cleaning and disinfecting taxi ranks and vehicles everyday. Passengers are offered hand sanitiser as they enter and leave taxi ranks.
---
Ageism and COVID-19
South Africa has the highest of proportion of elderly people in the African continent. The South African mid-year population estimate indicates that the proportion of elderly (60 years and older) in South Africa is growing, reaching 9% (5.3 million) in 2019. Of the elderly, the highest percentage 24% (1.3 million) reside in Gauteng and the majority are female (60%). Medical aid penetration among the elderly is particularly low amongst the black (7%) and 'coloured' population groups (16.6%).
While nearly half of South Africa is under the age of 25, there is also a large number of older people (aged 60+) in the country. More than a quarter of all white South Africans are older than 60, and South Africa has the highest proportion of elderly people in its population in Africa. This is a cause for concern in the midst of the COVID-19 pandemic for two reasons. Firstly, the data that has come out of China and Italy suggests the elderly are most vulnerable to the worst effects of the disease. Preliminary data indicates the mortality rate for older people is much higher (10-27% for people aged 65-84 years, vs <1% for people aged 20-54 years). The second concern is the large number of multigenerational families in South Africa. In South Africa, 14% of households have 6 or more people, and we can assume that there are often grandparents in these shared households.