Winning Loyalty Partnerships
Entering into corporate partnerships has long been a successful strategy to enhance the customer experience and create more value. Exclusive Books' instore partnership with Seattle Coffee was a no-brainer, in hindsight. Discovery Vitality pioneered the concept of medical aids offering significant discounts on gym membership. FNB eBucks was the first to reward customers for fuel spend.
Loyalty Landscape Development for Fuel Partnerships, 2010 to Oct 2021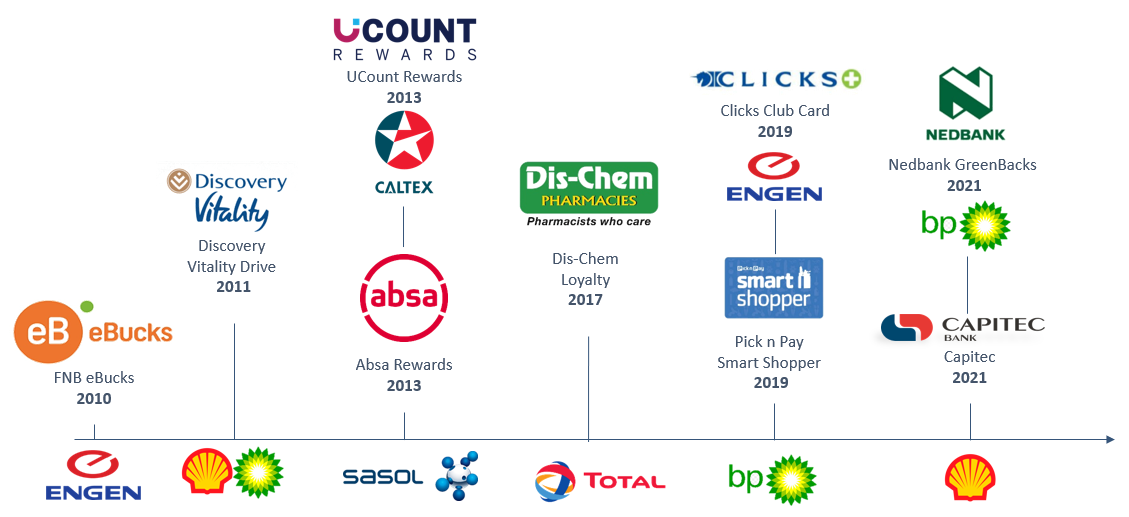 Many of these successful partnerships have evolved and grown over the years, with customers coming to expect brands to align and improve their customer propositions. Loyalty programmes are an excellent vehicle to create these relationships and enhanced propositions. What is fascinating is just how much value effective partnerships can create, both to the customer and to the collaborating brands.
At Eighty20, we have been advising loyalty programmes on their corporate partnerships for almost 20 years. Through this work, we have seen effective partnerships change and sustain customer behaviour of up to four-fold when the partnership makes sense, the proposition is clear, and enough work is put into making the partnership sustainable and financially attractive for all stakeholders.
| | |
| --- | --- |
| ❝ | For a corporate partnership to work, it has to benefit all the parties concerned. |
It goes without saying that, for a corporate partnership to work, it has to benefit all the parties concerned. The benefit could lie in acquiring or entrenching customers, strategic positioning or marketing exposure. Whatever the goal, understanding the stakeholders and how they can benefit is critical in identifying and designing a successful loyalty partnership.
In the South African loyalty landscape, most loyalty partnerships occur in proprietary programmes. Here, the programme and its rewards currency are owned and managed by a single brand, for example SmartShopper, UCount and eBucks. Partners are included so that customers can earn and/or redeem rewards outside of the owner brand. This creates value that the owner brand couldn't offer on its own and yes, when done well, increases loyalty to the brand or programme.
For the three primary stakeholders in this relationship, it works like this:
Programme Owner: Creating a compelling ecosystem of suitable partners makes the programme significantly more attractive and engaging to customers. This can ensure that the primary programme objectives of attracting, growing and retaining customers are met.
Partner: With or without their own programme, loyalty partnerships create opportunity to attract the programme owner's customers, increase engagement from shared customers and add an additional marketing channel. Furthermore, structured correctly, partners can benefit from enhanced customer insights they would not have had access to otherwise.
Customers: Without the customer, none of this would work. The brand association must make sense to the customer, who should be able to benefit easily either financially, through increased convenience or with a better experience.
| | |
| --- | --- |
| ❝ | The art in making partnerships work is in determining how much effort or cost is required from the customer to enable all three stakeholders to benefit sufficiently. |
If a customer only needs to drive a hundred metres outside of their usual route to get R1 off a litre of fuel, or if it is convenient to get a good quality coffee with a voucher that was earned doing something the customer was probably going to do anyway, then partnerships can nudge customer behaviour in a direction that works for everyone. On the other hand, if it's simply not worth the effort or too complicated to understand, then the partnership will fail.
Banks are the natural leaders in partner-led loyalty programmes, given their credit card and transactional product offering. In recent years we have also seen fuel retailers in South Africa join the loyalty market, but primarily as partners. Although very different, both these industries provide numerous case studies on how to use loyalty programmes and partnerships to differentiate in a relatively commoditised and unexciting space.
Popular Partners of Major Financial Services Loyalty Programmes, Oct 2021
| FNB eBucks | Standard Bank UCount | Discovery Vitality | ABSA Rewards |
| --- | --- | --- | --- |
| Engen | Caltex | BP and Shell | Sasol |
| Checkers / Shoprite | All major grocers | Woolworths and PNP | Woolworths and PNP |
| Clicks | Dis-chem | Clicks or Dis-chem | Dis-chem |
| Takealot | Makro | Virgin Active or Planet Fitness | Travelstart |
| Apple | | Apple | |
| | | Kulula / BA | |
Loyalty programmes have helped create an inflection point in fuel retailers' stagnant customer base. Engen reinforced its position as South Africa's leading fuel retailer since partnering with eBucks in 2010, seeing 43% growth in primary customers. Similarly, Caltex's partnership with Standard Bank's UCount Rewards triggered an increase in its number of primary customers. Conversely, other brands who have not partnered effectively with fuel-focused banking loyalty programmes have tended to see a flat or declining primary customer base.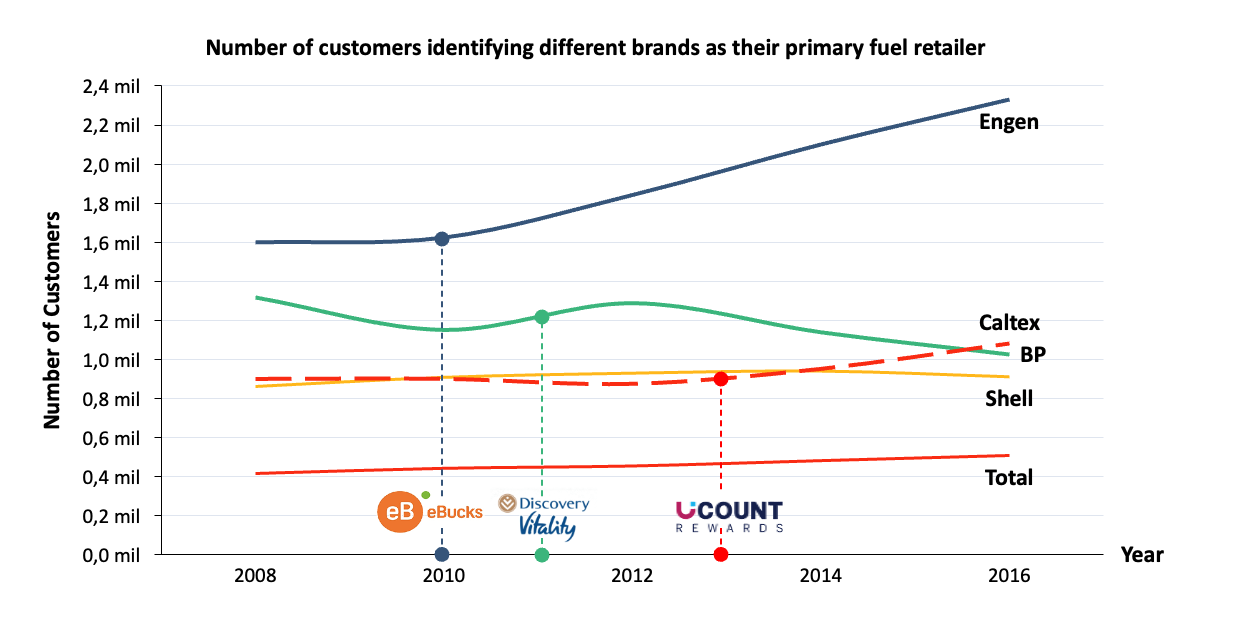 But Clicks is an exception, and these kinds of retailers have not always embraced partnerships. When Pick 'n Pay SmartShopper first launched in 2011, it was a closed programme. It was only a few years after launch that SmartShopper, too, realised the value of allowing other brands to enable the earn, burn or exchange of SmartShopper points. Pick 'n Pay's recent loyalty partnership with Lift Airlines is the latest example.
Looking at the Clicks/ Engen/ FNB partnership briefly: Clicks customers get 10c in ClubCard points for every litre of fuel purchased. Although this equates to less than 1% back, it does present an appealing marketing message and strong perceived value to customers.
With little effort, loyal Clicks customers now have an easy way to earn more by switching to Engen. Engen acquires a larger share of fuel spend.
Existing Engen customers will now find the Clicks ClubCard even more attractive and will redeem their points at Clicks the next time they need health or beauty essentials.
This partnership is made even more formidable given eBuck's partnership with both Clicks and Engen. Customers can now enjoy the benefit by 'double-dipping' – earning up to R4 per litre in eBucks in addition to their ClubCard points.
The Clicks, Engen and FNB loyalty relationship could mark the beginnings of a coalition (or strategic alliances) era in South Africa's loyalty landscape. Coalitions, which have been successful in other markets, exist when a group of brands partner to offer the market a single loyalty "currency". This enables customers to earn one "currency", but at a much faster rate, and then have a wider selection of options for redeeming their "currency" (often at boosted rates).
On the other hand, the SmartShopper and Lift promotion illustrates a different example. Although the current offering only gives SmartShopper customers 1.5% of their airfare spend back in SmartShopper points, it leaves the door open for SmartShopper to allow customers to redeem points at Lift in the future, and at a much higher value than what Pick n Pay can afford.
This is a useful option to consider because grocery retailers have paper thin profit margins. This means that even 1.5% back on every purchase will have a significant impact on the bottom line. Airlines, on the other hand, have sky-high fixed costs – it costs almost the same to fly a full aircraft as it does to fly at half capacity. So, each additional passenger means extra money to the bottom line. This means Lift could easily afford to fund the 3x the SmartShopper points earned on flights. In future, it could further afford to allow SmartShopper members to redeem points at boosted rates, enticing customers to use their services instead of other domestic airlines.
Discovery Vitality has been using the same concept for years by creating an ecosystem of high-margin redemption partners. This gives members the opportunity to 'boost' the value of their Miles at certain redemption partners. For example, Vitality members can get a Vida e Caffè caffeine fix that normally costs over R30 for 150 Miles (R15), which is an attractive offer.
Selecting and establishing winning loyalty partnerships is no mean feat – it requires careful consideration to understand customer needs, marketability, and the partnership's business model. Execution also requires an understanding of payment systems, CRM, apps and other (often digital) platforms to create a seamless customer experience that makes it easy for customers to change behaviour.
However, the effort is worth it! If done well, good brand partnerships are a highly effective way to enhance loyalty programmes – attracting new customers while retaining and engaging existing customers. Creating these synergies between complimentary brands allows customers to exercise a variety of earn and burn preferences and get rewarded. Ultimately, winning loyalty partnerships are a system through which brands can offer different elements of value that benefit the loyalty programme owner, the partner and – most importantly – the customer.
Eighty20 is a consumer analytics and research business helping clients to understand their customers and better engage with them. As part of our offering, Eighty20 specialises in the design and optimisation of loyalty programmes and the execution of data driven customer engagement solutions. Eighty20 has worked on loyalty programmes for large national banks, insurers, retailers, telcos and hospitality firms.