Pokémon Go: Opportunities for marketers and officials
Based on the numbers, it seems that Pokémon Go is the single biggest and fastest growing augmented reality (AR) phenomenon ever. The game was officially launched on July 6 2016 in Australia, New Zealand and the USA. It is estimated that over 75 million people have downloaded the app since release, and in the US, over 60% of those who downloaded the app are using it daily. By now, the app should have more users than Twitter. Nintendo, which owns 32% of the Pokémon franchise saw its market capitalisation increase by over $17 billion in the days following the launch of the game. Its market cap declined by $6.7 billion following clarification by Nintendo that the company did not produce Pokémon Go or stand to gain financially from the game.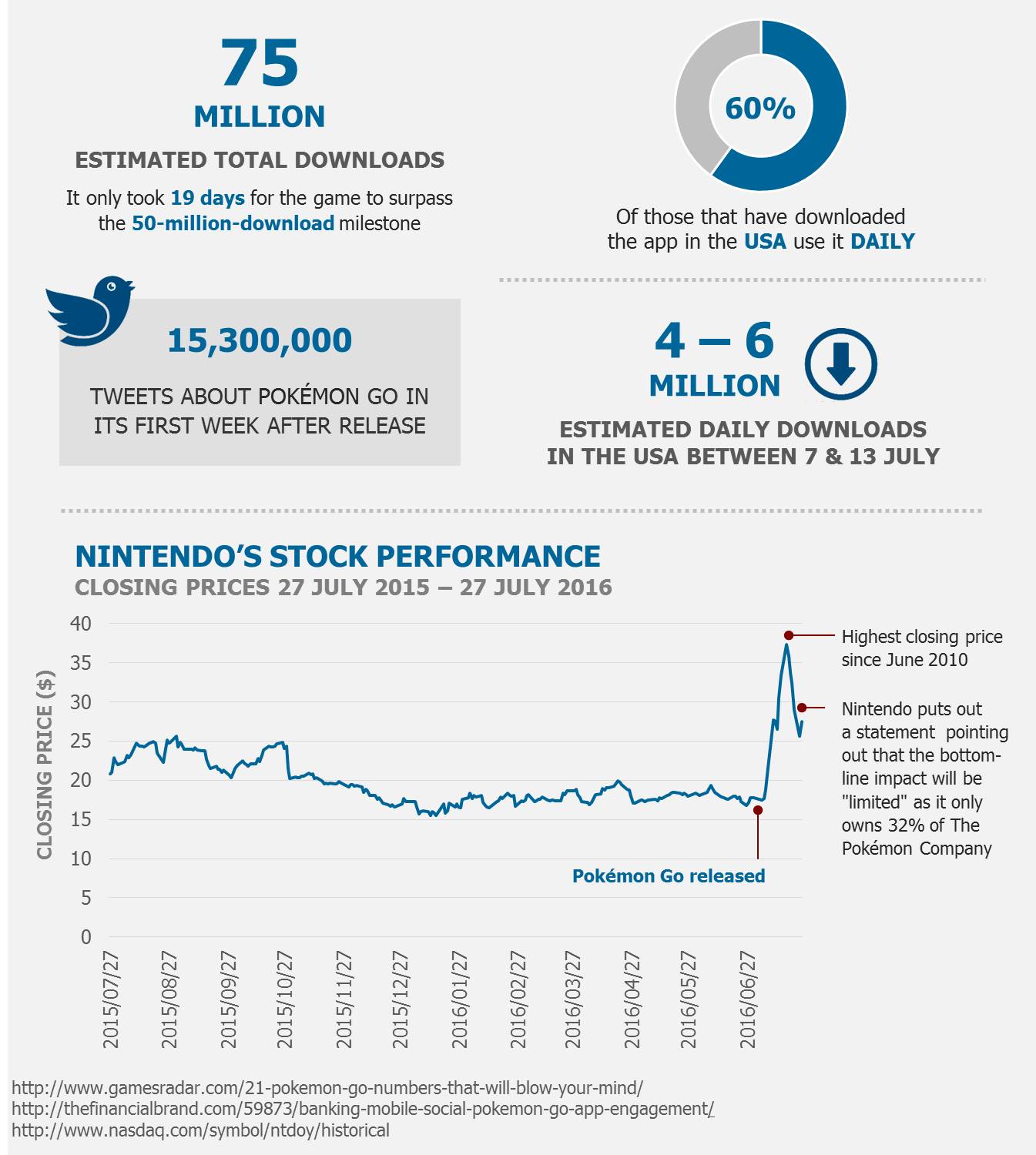 Marketers around the world, when not too busy playing Pokémon Go themselves, are thinking hard about the impact of the game on the way they engage with customers. They are no doubt convening conferences and bringing in experts to help them develop Pokémon Go insights and strategies. While some marketers might have dabbled a bit with AR marketing in the past, they now need to dive head first off the burning platform. Companies cannot at present buy the right to become a PokeStop or a Pokémon Gym. However, some have been lucky enough to have been selected at random. They have witnessed high volumes of potential customers wandering into their stores. Some of these customers must have occasionally looked up and one or two may even have purchased something.
The opportunities presented by Pokémon Go obviously differ significantly across sectors. Retailers, particularly those of the bricks and mortar variety, may be delighted at the prospect of being able to lure customers back into their stores. Banks on the other hand definitely don't want people in their branches. They might want to lure them elsewhere, particularly when the queues in the branch get long. But they too have been encouraged by gurus to think about how to leverage AR and gamification to encourage customers to "spend and save smarter". There are potential benefits of embedding Pokémon Go features in banking apps and loyalty programmes, to leverage the data generated by Pokémon Go to make better lending decisions, and to become better at collections. Indeed, vehicle finance divisions could even get delinquent customers to drive directly to the repo man. Of course, it is early days still, and the gurus themselves need more time to play the game in order to appreciate its potential benefits.

Image source: mweb.co.za; TFG Facebook page
While the game is not officially available in South Africa its adoption has been rapid. The Sea Point promenade was quite literally overrun by Pokémon Go players on Sunday July 24. TFG launched the first PokeCampaign in South Africa on July 28.  
The potential benefits of the game extend way beyond the narrow commercial interests of marketers. Aside from benefitting politicians (read here), the game offers enormous potential to the State. It is an ideal channel for Keynesian stimulus plan, something many economists argue we desperately need given that quantitative easing has had very limited success in bringing the global economy out of its post-GFC slump. Keynes himself compared monetary interventions to "pushing a string" and offered an alternative in The General Theory of Employment, Interest and Money (1936):
"If the Treasury were to fill old bottles with bank-notes, bury them at suitable depths in disused coal-mines which are then filled up to the surface with town rubbish, and leave it to private enterprise on well-tried principles of laissez-faire to dig the notes up again (the right to do so being obtained, of course, by tendering for leases of the note-bearing territory), there need be no more unemployment and, with the help of repercussions, the real income of the community, and its capital wealth, would probably become a good deal greater than it actually is."
With Pokémon Go we don't need bottles, bank notes and disused coal mines, and we don't even need private enterprise. The State could simply plant PokeCoins issued by the monetary authority in strategic locations. In countries like Japan – coincidentally the home of both Pokémon and persistent slow growth – these tokens could be made to expire before a defined date to ensure that customers spend them quickly. In South Africa if we delivered smart phones to the poor preloaded with the Pokémon app we could create an engaging way to distribute state grants that would not only see the poor get their money but also cheer up noticeably. And if we introduced a new category of employment in the Quarterly Labour Force Survey – Pokémon Hunting – we could significantly shift our stubborn unemployment numbers.
Urban planners could also leverage the app to create more integrated cities and to stimulate economic activity in depressed areas. Imagine the impact of throngs of middle class Pokémon Go players trawling the streets of Khayelitsha in search of Pokémon. Likewise transport officials could finally get people to use the trains by putting Pokémon tokens all over their rolling stock.
Add to this the potential benefit of all the data generated by the app. When users download the app they agree to a set of T's&C's and give the app permission to track location (obviously). Those same T's&C's allow NianticLabs to change the T's&C's, and to share information with officials at their sole discretion, which can be very helpful. To quote from that policy directly: "We cooperate with government and law enforcement officials or private parties to enforce and comply with the law. We may disclose any information about you (or your authorized child) that is in our possession or control to government or law enforcement officials or private parties as we, in our sole discretion, believe necessary or appropriate: (a) to respond to claims, legal process (including subpoenas); (b) to protect our property, rights, and safety and the property, rights, and safety of a third party or the public in general; and c) to identify and stop any activity that we consider illegal, unethical, or legally actionable activity."1
All in all, Pokémon Go looks like a very useful app that really might just augment our reality in pretty concrete ways. What a fun game, while it lasts.
For those readers who, like the writer, have never played Pokémon Go, here is a useful glossary. And here is a useful video explaining how the game is played.
By Illana Melzer
---
1. [Indecently, the preceding clause states the following: "Information that we collect from our users, including PII, is considered to be a business asset. Thus, if we are acquired by a third party as a result of a transaction such as a merger, acquisition, or asset sale or if our assets are acquired by a third party in the event we go out of business or enter bankruptcy, some or all of our assets, including your (or your authorized child's) PII, may be disclosed or transferred to a third party acquirer in connection with the transaction. In the event of such a transaction, we will give you notice of the transaction and the opportunity for a period of 30 days to refuse disclosure or transfer of your (or your authorized child's) PII to the third party acquirer in connection with the transaction."]↩